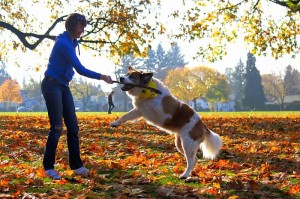 Two weeks ago was the Portland Tripawd Pawty, which I call the Tripawd Date, because it was small and intimate with three Tripawd families. Lincoln and his mom and aunt came down from Washington, and Wyatt and his pawrents were in Portland as part of their west coast tour.
The weather was beautiful, and all three dogs with their brown and red coats matched the fall colors perfectly. Lincoln's mom took advantage of the colors and the light and got some great photos.
Lincoln was a little drugged up from his latest health fiasco, but he was in great spirits. He would drag his bottom through the leaves to position himself strategically under an idle hand.
Wyatt was alert as ever, taking note of what everyone in the park was doing, which squirrels were where, who was sniffing whose bottom… Jim was the ever diligent handler that day, correcting barks and lunges and rewarding attentive eye contact.
Indi mostly lounged, as is her way. She did have a good squirrel stalking session and she and I played stick tug– our favorite game.
After a while we left Fernhill Park and headed to lunch at The Lucky Lab Brewery. It is a testament to our love for our dogs that we sat outside in the November air, scarves blowing in the wind, hands snug in pockets, so our dogs could lie at our feet. (Wyatt did great at the restaurant, by the way!) It was so nice to meet other Tripawd families face to face. This community is so important to me. I can't wait to meet even more Tripawds.