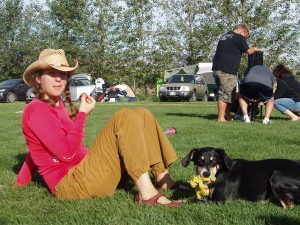 Meet Berkeley and Burley, our dear friends who are both named after cities. Berkeley (that's the lady in the cowgirl hat) found Burley (the little black dog) at a gas station in Burley, Idaho. 
Berkeley and her husband Jamie were driving back to Portland after a cross country honeymoon when they stopped for gas in the middle of nowhere (aka Burley, Idaho). Berkeley was waiting in the car when this cute little black dog trotted up and asked politely if she could hop in and come with them, please. Berkeley and Jamie looked around for the owner of this dog but no one there had seen her before. They even took her to a local shelter for 48 hours thinking that the owner might pick her up. Nothing. No one.
So Berkeley and Jamie surrendered to fate and welcomed Burley into their lives and hearts. There is no doubt in anyone's mind that they made the right decision. Burley is a lover to the highest degree. All she wants to do is be pet, wag her tail, give kisses, and sit on laps (which is not allowed, but boy does she try).
Berkeley is an oncology nurse. While there are many differences in canine cancer and human cancer, I'm glad I have Berkeley to talk to about Indi's osteosarcoma. She knows what a biz-nitch cancer is and she understands me when I feel lost and out of control and scared. She also knows how much I love Indi. Berkeley and I became friends when Indi was just one year old.
Last week we had a big sleep over party at Berkeley and Jamie's new house near Mount Tabor. My best friends and our dogs and men were there: Me and mine (Indi and Brad), Megan and hers (Callie and Adam), and of course Berkeley and hers (Burley and Jamie). We played games and drank wine into the night, and the dogs ate treats and took turns sleeping on Indi's bed, which was the largest and the cushiest of them all. I am so lucky to have good friends with big hearts and dog friendly homes we are welcome in.