Tripawds is a user-supported community. Thank you for your support!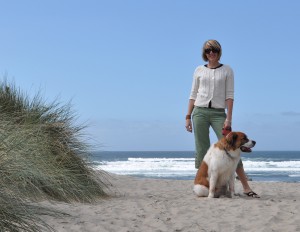 Indi's leg weighed 5 pounds. Our surgeon, Dr. Simpson, said it was the largest dog leg she has ever….well, you know (gulp!). On Tuesday, August 31, 2010 Indi went in for surgery weighing 95 pounds. She left the next day weighing 90. At first Dr Simpson didn't believe it and asked the tech to weigh her again. Indi hopped onto the scale and we all saw it: 90 pounds.
Welcome to 5 Pounds Freer. In the coming posts you will witness how Indi, the 8 year old Saint Bernard diagnosed with osteosarcoma, navigates the world on three legs. And how I, a 30 year old Portlander, learn how to care for the love of my life.